Landscape Fertilization Service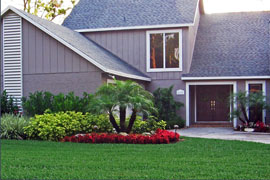 PROscape, Inc. offers a full line of agronomic and horticultural services. We customize each service to meet the specific needs of the specific property being serviced. We offer fertilization, pest control, weed control and disease control solutions for both the lawn and ornamental plants.
Environmental Sustainability
PROscape, Inc. is ever mindful of the environment and practices Integrated Pest Management to reduce and keep to a minimum the amount of pesticides and chemicals used in our operations.
Training And Experience
PROscape, Inc. has Licensed Certified Pest Operators on staff and all technicians undergo extensive training and education. PROscape technicians are trained to monitor all aspects of the landscape on each visit, ensuring that the lawn, shrubs and trees look healthy at all times. PROscape strives to minimize the opportunity for problems arising from being proactive in the horticultural approach, helping to control unsightly weeds, damaging insects and unhealthy diseases before they become problematic.
MEDIA & EVENTS
D.R.I.V.E. S.A.F.E.
US Business Review Landscape Management Lawn & Landscape GIE Today
click here